Congratulations on your impending nuptials. Having already chosen a beautiful engagement ring, it is now time to turn your attention to those all-important wedding bands. Wedding rings form an important part of your wedding ceremony and when you say "I do" they are exchanged as a symbol of your love for your partner.
If you have never really thought about the type of wedding ring that you would like or thought that choice when it comes to wedding bands was rather limited, unlike engagement rings, then make sure that you leave plenty of time to browse. Wedding bands vary considerably with both plain and patterned options available. They come in different widths, and, of course, can be purchased in a range of different materials.
In our buyer's guide, we will talk about the pros and cons of plain and patterned wedding bands, as well as some of the other factors you may want to consider when selecting the perfect wedding bands.
The history of the wedding band
Have ever wondered how long wedding rings have been around? It might surprise you to know that historians believe the first wedding rings were used over 6000 years ago, in ancient Egypt. Both wedding and engagement rings are worn together on the fourth finger of the left hand, and there is a reason for this position. The Romans believed that the Vena Amoris – a vein that ran directly to the heart, was there. Wedding bands are a symbol of the everlasting love that a happy couple declare for each other, as they have no beginning and no end.
Plain wedding bands
When it comes to wedding bands, plain rings are what most people think of first. This is because this style of ring is what they have seen most on those around them, and it is also makes up the bulk of the wedding rings you will find in jewellery stores. A plain band is a very traditional style and for many people, it is just what they want from a wedding ring.
The pros of plain wedding bands
There is something elegant and classic about a plain wedding band that for many is the perfect contrast to a more elaborate engagement ring. If you have spent a lot of time and money finding the perfect engagement ring and have chosen something with a more unusual design, you will likely want a wedding ring that will help to showcase it rather than jostling for attention on your finger.
Plain wedding bands are much easier to keep clean, so make the ideal choice for who handle raw materials or work in a manual environment. The smooth surface means that there is less likelihood of particulates getting stuck on the ring, making it appear dirty.
Plain wedding bands are much easier to have refinished. This is a professional treatment that a jeweller can carry out on a ring to make the surface look like new. With a plain band the process is an incredibly easy one. This is a particularly important consideration is you have a white gold ring, as you may want to consider having it re-rhodium plated from time to time. The results of the process can last 2-3 years.
Plain bands can be easily reworked or even customised too. If, further down the line, you would like to change your plain wedding band, this is entirely possible to do.
The cons of plain wedding bands
The most obvious reason that many people avoid plain wedding bands is that they have a larger smooth surface. Whilst this can initially be very appealing, it can also become a little scuffed and this can make the ring appear dull. Regular cleaning and polishing may help to alleviate this issue. However, without regular trips to a jeweller, this will only be a temporary fix. Whilst for many people this may simply indicate that their marriage has some longevity to it, for others the dulled appearance may be a problem.
Another potential issue with a plain band is that they may make you feel it's not possible to express yourself adequately. If you're looking to make a bold statement, a plain band might not be appropriate. However, at Madani rings, you can express yourself by choosing a ring that suits your needs perfectly, with limitless designs and configuration options.
Examples of plain wedding bands
We have a great range of plain wedding bands to choose from. Here, we highlight a few from our range.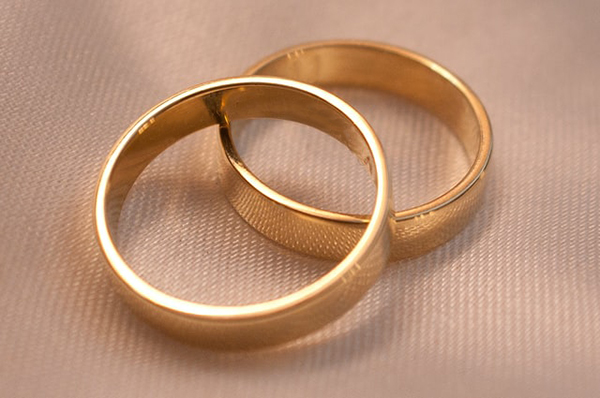 MDM – Men's Plain Satin Finish Wedding Band
This is a perfect example of a stunning plain wedding band. This is a modern looking two-tone ring that can be purchased in a combination of metals to create the wearer's own unique personal look. There are 4 base metals available and a further 4 inlay metals to choose from. It is available in 3 different carats and in 3 different widths.
MAK – Men's Satin Milgrain Wedding Band
This contemporary looking ring with its brushed inlay and smooth polished edges is a perfect example of a plain wedding band that offers a little something different. It comes in a range of different base metals and again the inlay metal can be chosen to suit the wearer taste. 3 different widths offer further customisation, and the ring has space to be engraved for further personalisation.
RCB -Classic Half Round Polish Wedding Band
With its timeless, minimalistic look, this ring will never go out of style. It comes in a range of metals, and you can choose from 5mm – 7mm width, which makes it perfect If you want an unobtrusive piece of wedding jewellery that is perfect for everyday wear.
RDB – Classic Flat Polish Wedding Band
Another timeless, elegant and classic ring, this time with a flat facing, rather than the half round styles you may have seen. Again, you can opt for a range of widths, and due to its unobtrusive design, it would be a great choice for everyday wear.
Patterned wedding bands
Whilst patterned bands may appear to be a more modern addition to the wedding band market, they have also been around for quite a while. They can certainly be a popular choice for those individuals who are looking for something a little different, or for men who will only be wearing the one ring.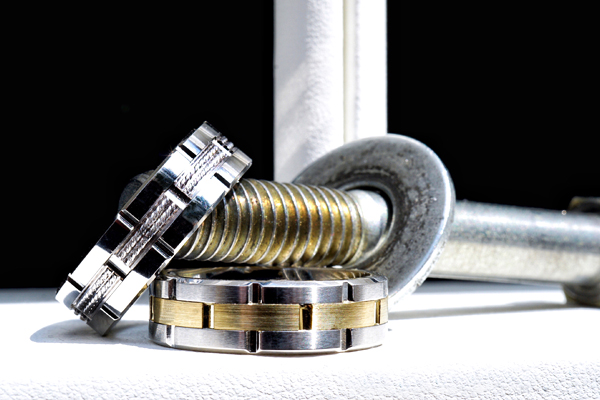 The pros of patterned wedding bands
Patterned wedding bands could hide small scratches and scuffs so are a great choice for anyone who leads a more active lifestyle. However, it's worth considering that any heavy knocks and dents will still show, so it would be a good idea to remove your ring prior to any heavy jobs. Whilst a wedding ring that shows signs of wear can be something that some people want, for others it is important to keep it looking as good as possible for as long as possible. A patterned ring will certainly help with this.
The cons
A patterned ring can be too busy for some. Patterned wedding bands can also be harder to get in a shape that will fit next to an engagement ring with a bigger setting.
Patterned rings can also be much more complex to have refinished than plain ones so if you want to keep your ring looking as new as possible this is certainly something you should consider. Further to this, it's tougher to size patterned rings down, especially if they have diamonds, so it's well worth considering a plain band if you think you might need it adjusting at a later date.
Examples of patterned wedding bands
Just as with plain wedding bands, we have a large range of options when it comes to patterned wedding bands. Here are some of our favourites.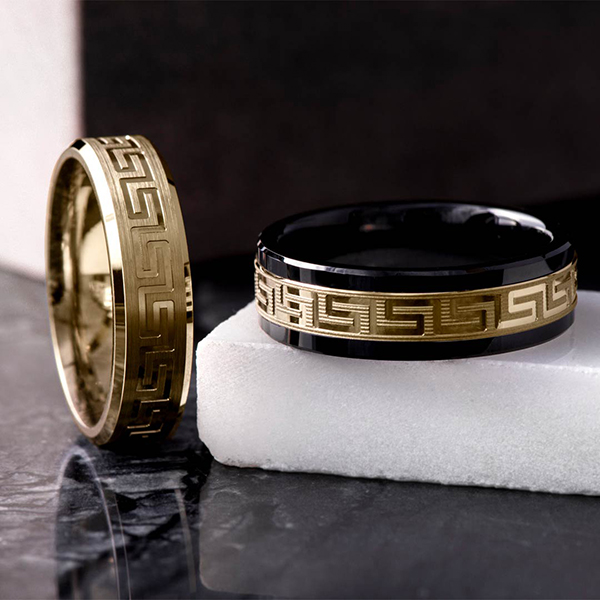 MMO – Men's Greek Pattern Bevelled Edges Wedding Ring
The Greek block pattern of this ring has a real visual impact. The ring comes in a range of finishes and the inlay offers 3 different options. In addition to the pattern, the ring has a bevelled edge and can be purchased in a good range of thicknesses and widths. It can even be engraved for extra personalisation.
MLE – Men's Infinity Design Wedding Band
When it comes to patterns for wedding bands could there be anything better than this beautiful infinity design? The symbolism of the infinity design makes it the perfect pattern for a wedding ring. With a range of different base and inlay metals to choose from, the ring can be customised to the wearers taste, perfect for making a real statement.
MLY – Men's Black Puzzle Pattern Black Diamond Wedding Band
The clever pattern on this ring offers a really contemporary look that is sure to be noticed. The ring offers a choice of 4 different base metals to contrast against the black gold of the inlay. The addition of black diamonds makes this a great choice for bride, groom or both, and with the option to also have the ring engraved, it can be completely customised for the wearer.
MQE – Men's Textured Grooved Wedding Ring
The elegant simplicity of this textured grooved wedding comes in three different base metals and offers a range of contrasting inlays that offer a really chic and contemporary look to the piece. The ring itself is polished whilst the inset is textured to offer a really eye-catching contrast. The ring also has plenty of space for engraving, so whether you want to add names or a date you can create something truly personalised.
Hopefully, we've now given you the information you need to choose whether a plain or patterned wedding band is best for you. If you're still not sure what ring to opt for, we'd be happy to help you. After all, you'll want something – just like your partner – that you'll be happy with forever. With our limitless range of customisation options available here at Madani, you're sure to be able to choose a ring that is as unique as you are.